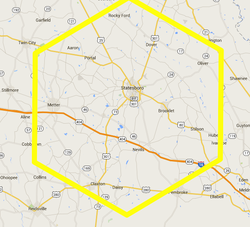 Welcome to beekeeping in the "True Blue" part of Georgia, home of
Georgia Southern University
and
Garden of the Coastal Plain
. We have just entered our third year of "being" (yes, beekeepers can be punny too) and are members of the
Georgia Beekeepers Association
. We offer local residents and farmers a place to meet together, greet together and eat together at least once a month. Our goals are to help you as a beekeeper whether you are an old pro or a "newbee" with interesting presentations monthly on such things as preparing your honey for a
Welsh Honey Judging
competition at the
county fair
or the health and welfare of the single garden beehive in your near future plans. Membership in the club is less than you will pay for a new beekeeping book and we welcome you to attend one of our meetings,
held the last Thursday of every month
, where you can meet fellow beekeepers, compare experiences, ask questions and be a part of the "hive." Just like in a beehive, it isn't the work of the one, but the work of the many that make a successful place to call home possible. There are other nearby clubs that meet monthly on different nights presenting different topics and one may be closer to you that Statesboro, visit the
Georgia Beekeepers Association
to find the club nearest you. New clubs have formed in Springfield (Effingham), and in Lyons (Tattnal) too and then there is even an older club in
Dublin
(Laurens) that has not joined the GA Beekeepers.
Attention Members!
Nectar flow has ceased in many areas! It is time to start feeding and prepare for winter feeding. The club now has a fifty (50) pound bag of sugar for just $20, get the quick. If you keep your honeybees fed daily during the cold months you can keep one beehive fed this winter on less than forty pound of sugar according to one of our members who fed Winter 2014. So, you can feed a full box of your wintering girls with just one bag and have enough left to start another bee nuc in Spring. Membership in the club is less than you will pay for a new beekeeping book and benefits like this are an added bonus.
Fall Gathering at Gary Weaver's a Success
Club members and guests attended the Gary Weaver Apiary in Screven County for a day of fun fellowship and learning. Nancy Baker took time to reflect on the gathering and write a bit about the event.
Read it here!
Pictures of the event taken by Ruth Mettler are in the gallery of the event under photos.
---
---