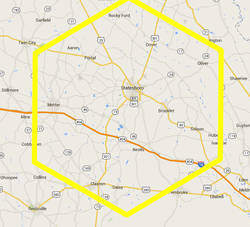 Welcome to beekeeping in the "True Blue" part of Georgia, home of
Georgia Southern University
and
Garden of the Coastal Plain
. We have been here five years now and are members of the
Georgia Beekeepers Association
. We offer local residents and farmers a place to meet together, greet together and eat together at least once a month. Our goals are to help you as a beekeeper whether you are an old pro or a "newbee" with interesting presentations monthly on such things as preparing your honey for a
Welsh Honey Judging
competition at the
county fair
or the health and welfare of the single garden beehive in your near future plans. Membership in the club is less than you will pay for a new beekeeping book and we welcome you to attend one of our meetings,
held the last Thursday of every month.
Here you can meet fellow beekeepers, compare experiences, ask questions and be a part of the "hive." Like in a beehive, it isn't the work of the one, but the work of the many that make a successful place to call home possible. There are other nearby clubs that meet monthly on different nights presenting different topics and one may be closer to you that Statesboro, visit the
Georgia Beekeepers Association
to find the club nearest you. New clubs have formed in Springfield (Effingham), and in Lyons (Tattnal) too and then there is even an older club in
Dublin
(Laurens).
New News
Honey Bee orders for nucs are now available for pickup from Gary Weaver or Bobby Colson.
In club inventory now has a 12V battery operated Oxalic Acid Vaporizer for bee hive fumigation for Varroa mite treatment.
You need to have a 12V car type battery, a chemical respirator face mask,
(available at Lowe's)
and Oxalic Acid
(available from TMB or your local honeybee supply service) to operate the vaporizer. Contact
Beeutiful Bees
for free instruction on how to use,
Current 2017-2018 year paid members
please contact Tillman, Brannen & Minick Farm Supply to sign out the vaporizer or the honey extractor. Bring a gift for the monthly raffle and get a free ticket too.
---
---
Declining honeybee population spells trouble
The federal government is acknowledging tha the continued decline of honeybees will spell trouble for some crops i the US this year.
Fox News reports
that beekeepers lost nearly 44% of honeybee colonies last year. That is the second largest decline reported since records have been kept. So, beekeeper, don't be surprised if you lose your bees even if you are doing everything correct. You still make a difference! Diversity in lcation is the key to rebuilding honeybee populations.
---
EPA Admits Cotton & Citrus Neonicotinoid Danger
In independent research the EPA has acknowledged that the US use of neonicotinoid pesticides for the past 20 years is a danger to honeybees. Further studies prove that Bayer is a leading contributor to the death of honeybees in the SouthEast especially in cotton and citrus products. See
this article
for more information.
Mites are the key contributor to honeybee virus death
Research by the National Academy of Sciences proves that mites are the vector killing honeybees much like the flea was the vector for the Black Plaque of the Middle Ages.
See this article
for more news.